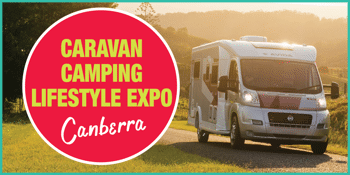 2019 Canberra Caravan Camping Lifestyle Expo
Friday 25 - Sunday 27 October 2019
Exhibition Park, Canberra (Mitchell, ACT)
Fri 25 - Sun 27 October 2019 9:00 am
Friday 25 – Sunday 27 October 2019
Exhibition Park in Canberra (EPIC)
From Friday 25 – Sunday 27 October 2019, EPIC in Canberra will be transformed into the finest exhibition of recreational vehicles, outdoor gear and holiday spots at the 2019 Canberra Caravan & Camping Lifestyle Expo.

Brought to you by the NSW Caravan and Camping Industry Association, the exhibitors at the Canberra Expo are Australia's leading outdoor leisure specialists. At this superior show you will be able to check out over 140 exhibitors, with quality brands and great show specials all in the one place.

Summer is just around the corner, so this is the perfect time to gear up for your next holiday. Talk to our product experts who will have their latest range on display, get their insights and compare options.

Tickets are just $15 for adults, $10 for concession holders, and kids 16 and under are free. Free parking is available at the venue, making for a great-value and fun family day out.

Don't miss the 2019 Canberra Caravan Camping Lifestyle Expo – it's the biggest and best Canberra event for everything caravan and camping.

Expo Highlights

* Get expert tips and hands-on practical experience at our daily seminars and towing demonstrations.
* Come and see celebrity TV chef, Fast Ed, cook up a storm in live cooking demonstrations all day every day.
* Plenty of free kids entertainment.
* Opportunity to sample the delights of leading tourism regions and find the perfect holiday spot.
Please head to www.caravanexpo.com/canberra for further show details.